To access to our services or establish an R&D collaboration or access to our equipments, an online access procedure is available: Request for access
The diagram below shows you the progress of your request.





















In short, if you choose a specific platform of MetaboHUB, the request will be handled directly by the coordinator of the MetaboHUB platform chosen. This latter will be in charge to monitor your application and exchange with you to fully understand your request.
In case you do not know which platform to choose or if you choose multiple platforms, an appointed coordinator will contact you to follow-up your project.

Remember that you also have the option to choose a partner among the other platforms in France. These partners described their expertise, their areas of application and their capacity in a listing. You can near you, have skills of the highest order. Feel free to contact them.

Advise for futurs users
It is important to integrate all workflow steps in preparing your experience to exploit all the possibilities of metabolomics or fluxomics (see diagram of a universal workflow in metabolomics below).

The choice of the analytical tool (GC-MS, LC-MS, NMR) is certainly important. But before starting this adventure, it is crucial to realize his good experimental design, to ensure that you use the right protocol to prepare the samples, recording the metadata if you want to operate at best your data.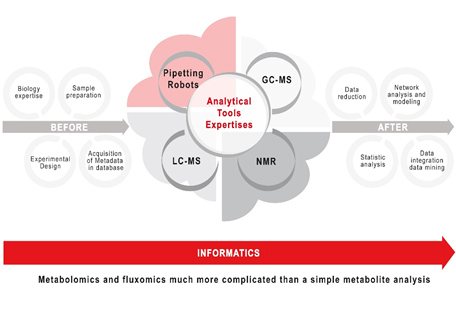 Do not hesitate to

consult

statisticians

before initiating

large-scale study

, so as to

ensure

that under the

generated variables

,

you have enough

samples

to statistically

validate

your results.

Consider using

the

tools

eMetaboHUB

to

make your life easier

in data

processing steps.
The field of possibilities is endless, it is also advisable to have training (see our courses available)
The MetaboHUB fields of expertise cover analytical chemistry for the detection, identification and quantification of metabolites in the fields of metabolomics and fluxomics, as well as bioinformatics, management and use of data. Do not hesitate to contact us.


Little thought of

the day from

Honoré

Gabriel

Riqueti

,

Earl of Mirabeau
Mirabeau said in the Letter to Sophie Ruffei in 1779:
"A service is an act of benevolence which, among honest people, gives joy to those who receive it, and to those who exercise it. "
To meditate !